Hey guys, are you searching for Yiwu Jewelry factory Manufacturers? I know what you thinking, you guys want to get great products for a cheaper price!
So, in this article, we're going to explore Yiwu jewelry manufacturers and check out ten companies that you can work with based in Yiwu.
Before we get into that, let's talk about Yiwu itself. It has a rich history and is also famous, being known the world over for being the world's largest small commodity marketplace.
Background of Yiwu
Yiwu is a central city in the Zhejiang province. It started as a small agricultural city to now being a city known for its markets and commodity businesses.
The change has been going on for 40years, and since then, it has become a world-famous city that is known for its international small commodity trading. There are over 200 countries and regions across the world that comes to trade here.
Moving around is easy, Yiwu being located a bus ride or bullet train away from Shanghai and Hangzhou. That level of convenience and easy access makes this a thriving city. In developmental terms, Yiwu is famous. In total, there are more than ten small commodity wholesale markets.
The largest and most known is the International Trade City, located in Futian Village. If you want to know about this market: this post is for you:  The Ultimate Yiwu Market Guide in 2023 (Everything You need to Know)
International Trade City is opened almost daily from 9 am to 5 pm. The market has small volume buyers coming to purchase off the shelf goods. Importers can go and pick out the products they desire. That is different from the model where they have to make orders. It also appeals to small buyers because of the discounted prices generally offered.
Another reason why this wholesale market is known is thanks to the Canton Fair exhibition that happens twice a year. It is tailored for manufacturers and buyers who then come together to conduct and finalize business deals.
While that is targeted toward large companies, International Trade City still triumphs due to its appeal from small and medium-sized businesses.
The only drawback one can perhaps note is that variety, and niche products aren't available as if you worked with a manufacturer directly.
Top 10 Yiwu Jewelry factory Manufacturers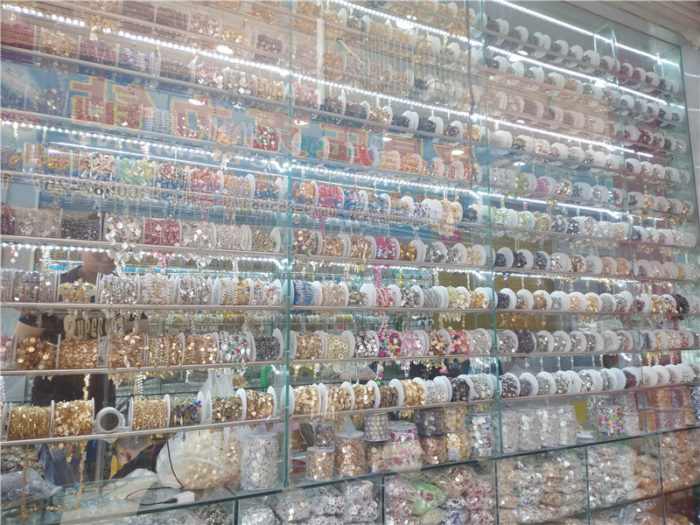 SOQ is currently a top-rated internet-based fashion manufacturer and wholesaler.
The company got established in 2012. Since then, they have become renowned for selling high-quality products at competitive prices.
SOQ sells fashion jewelry that includes rings, bracelets, necklaces, earrings, and the like of various kinds, with several collections to choose from.
Additionally, they sell hair accessories that include clips, bands, and combs. Other products include bags and scarfs.
Once can import from various parts of the world. You can also share designs with them, and they'll manufacture them. Their clients include JC Penny, Walmart and Forever 21.
Their headquarters are in Yiwu. Overall, they are dedicated to helping small businesses. If you have $200 to invest, you're able to get your business up and to run.
If you want to know this jewelry company, please visit this page for more information! 
Recommended Readings:  
8 Famous Custom Jewelry Manufacturers in China
12 Famous Brass Jewelry Manufacturers In China
Import Wholesale Jewelry from China in 2023? (Step-by-Step Guide)
Where to Buy Wholesale Jewelry in China? 
Top 10 China Wholesale Fashion Jewelry Manufacturers
Imitation Jewellery Wholesale Market in China
Yiwu Yaman Jewelry Co. Ltd, also called Maylan Fashions, is a professional fashion jewelry manufacturer and exporter.
The company got established in 2003. The managers in the company have over five years' experience in the field. They work with all kinds of fashion jewelry and accessories, which include necklaces, earrings, bangles, bracelets, finger rings, brooches, fashion scarfs, bags, party accessories, and other items.
Yaman Jewelry can provide the best quality products thanks to their advanced management systems. They also offer excellent designs and services.
They aim to become the best jewelry manufacturer in China, providing the best services they can. The company also values customer services and work to make it exceptional.
Yiwu Xinshang Jewelry Factory got established in 2009 in Yiwu. They are a Chinese company whose significant products are real leather goods and alloy.
The only jewelries they have are bracelets and necklaces. The company mainly exports to Europe, North America, and South America.
If you're looking to specialize in leather and alloy jewelry that are specific to their two products offered, then you can get in touch with them.
CanRui Jewelry Factory is a company that mainly does fashion jewelry, leather jewelry, and stainless steel jewelry.
They sell their products globally, with new designs and quality jewelry always being churned out. Some of the jewelry they have on offer includes necklaces, bracelets, earrings, rings, chokers, and wood rings. You can also get your hands on key chains.
One adding things that CanRui sta does is that they sell jewelry displays and packaging. You can purchase wholesale products for sale and equally get products to showcase and package jewelry for your customers.
This company is a manufacturer of high-grade sterling silver jewelry. They have well-equipped testing equipment as well as a strong technical force.
Their products are extensively used in jewelry and other industries. There is a wide range to choose from, and the sterling silver is good quality and reasonably priced. Yuzhe also produces stylish designs for earrings, rings, necklaces, bracelets, and brooches.
This company got established in 2013. The main markets are North America, Western Europe, Eastern Europe, and Australia.
Yuzhe is also advanced when it comes to producing new jewelry, with there being a 3D design team that works with the production team to bring designs to life. They also provide OEM and ODM services.
Here we have a company that specializes in a wide variety of jewelry.
You can get bracelets, charm bracelets, bracelets made of precious stones, earrings, necklaces, and also jewelry sets. The company has been operational for nine years and run off the Ali Baba platform.
Overall, they have high ratings on their products. That is an indication that they provide quality products for their clients.
In general, you'll find that their products have a minimum order.
Depending on what it is, it varies between 12 pieces and 120 pieces. That is an indication that they are particularly wholesalers; the people to deal with when you want to start your jewelry business.
Relevant information:
15 Fashion Accessories Wholesale Markets in US/UK/CHINA 
Top 10 Yiwu Jewelry factory Manufacturers You Can Trust
12 Famous OEM jewelry manufacturers on Alibaba
10 Websites You Can Buy Cheap Wholesale Jewelry
16 Famous Jewelry Making Supplier for Wholesale Business
Duoying was founded in 2005, and they mainly focus on fashion wearable products where they suppler and provide other services.
The past decade has given them the reputation of having quality products and excellent service. In the industry, they are ranked highly based on what they provide and how they provide it.
In 2014, Duoying began providing services on eBay, Ali Express, Amazon and other cross-border e-commerce platforms. The products that you'll get from this company are rings, earrings, bracelets, bangles, necklaces, pendants, jewelry sets, and more. A lot of their products have certified authenticity, including Amber and Swarovski.
Additionally, they have a professional design team providing OEM and ODM services.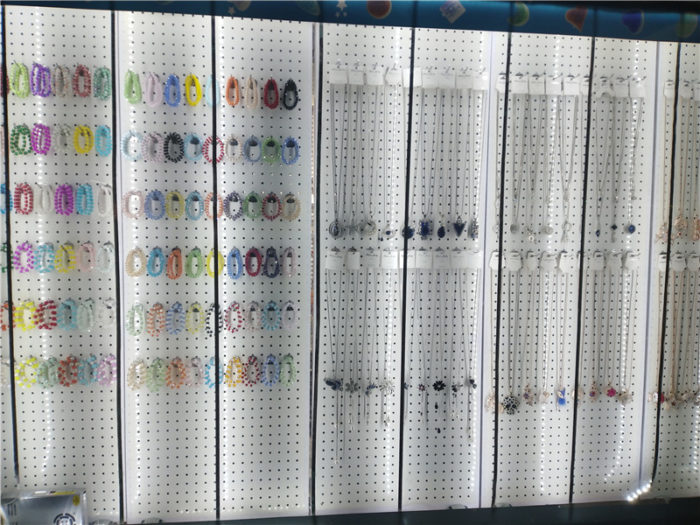 Daihe Jewelry has a factory with BSCI certificated since 1997. They were however established in 2015. Their main products are custom jewelry, Championship ring, and keychains, which are popular in the US and European markets. The products that Daihe sell comply with European and US standards. Should you require seeing it, they have a test report available for you.
The company talks about their strength being having a seven-day sample time, with bulk orders taking 25 days on average to get done. There is also inspection done before shipping. Overall, Daihe is a famous brand with more than 15 years of OEM experience, specializing in design and manufacturing.
They also sell men's rings, earrings, necklaces pendants, bracelet, bangle, brooch, cuff links, and charms, and so on. The materials used as primarily silver, copper stainless still, zinc alloy, and other nickel and cadmium free materials. Surfaces are either gold or rhodium plated. There are gemstones and artificial zircon that gets used as the auxiliary materials.
Yiwu Shenghui Jewelry Co factory and trading have been operational for more than ten years. However, they were established in 2019. They specialize in accessories such as chains, beads, clasps, earrings, charms, crystals, promotion gifts, etc. The departments they have include production, development, sales, and purchasing and after-service services.
Their primary markets are in North America, Northern Europe, and Western Europe. Shenghui also offers OEM services, design services, and labels. The products they sell also have a product certification for being nickel-free.
The factory has passed ISO9001, primarily dealing with designing, manufacturing and even wholesaling. Gemnel Jewelry was established in2015 but is famous for its high quality and refined taste of jewelry for the past ten years. The main products include necklaces, earrings, bracelets, rings, brooches, zircon jewelry and as well as other fashion jewelry sets.
This company relies on exquisite manufacturing technology and advanced facilities when creating their jewelry. Other aspects include top plating factories and artificial diamond suppliers that focus on the creation of romantic jewelry. Their primary markets are North America, Eastern Europe, and Western Europe.
Why Yiwu jewelry manufacturers?
Yiwu is known as China's top producer of fashion jewelry.
There are many firms and factories based in Yiwu where unbranded jewelry gets made. There is also a large number of warehouses to store goods.
Another aspect to note is that Yiwu is indeed the world's largest trading city when it comes to small commodities.
There are over 550,000 buyers annually coming to Yiwu and sourcing for small commodity products.
Now, let's get into more reasons why you ought to consider Yiwu jewelry manufacturers
1. Wide range of products
Overall, Yiwu is a famous city known for over ten small commodity market places, with International Trade City being the largest.
From all these markets, you're able to get quite the extensive range of products that you can purchase for sale purposes.
When it comes to jewelry, you can expect to be spoilt for choice based on the sheer number of merchants available for your consideration.
With that range of products, you're able to get what uniquely works for you. You can also establish ties with the merchants where you get items from a catalog shipped to you.
Products are always evolving, so you can expect to be never tiring of what's available on the market.
2. Very low cost
Another reality of Yiwu is that you're able to get products at super low prices. What's more, when you purchase goods in wholesale, you get large discounts, further saving you money.
All products available are of quality. However, you can buy goods of higher quality by paying extra. Either route you take means that you'll get high returns for your initial investment.
If you're a small or medium-sized company, then working with businesses from Yiwu will be a considerable gain.
You will also get a lot of profit depending on the price points you settle for. The beauty of the products you're purchasing is that they are of quality.
Compared to your home market standards, you will find they are worth quite a bit if you want to make exponential profits price based on your location of operation.
3. Perfect jewelry supply chain
Lastly, we have to talk about the reality of Yiwu itself. Currently, it is the biggest wholesale market in the world.
That makes it the perfect place to source and purchase jewelry from. If that is the largest globally, you can expect to get near countless numbers of merchants you can work with.
From the time an entity comes up with a design, to production, to when you purchase the product and sell it to your customers, there is a seamless system that works together. Once you've established whom you want to work with, you can form a working relationship where you won't have to keep visiting Yiwu to purchase products.
However, the purpose of going there in the first place is sought out the right merchant for you at a price you're comfortable with.
You require time and ample research to land the right people for the job.